UNITIN, indigo yarn specialist, is adding and offering on stock service a new exclusive yarn, the Ne 30/1 Compact Cotton "S Torsion" Indigo 11 (Inverse Torsion). This new yarn's main applications are seamless technology and circular knitting.
UNITIN Indigo Yarns for Seamless denim fashion have been showcased at last August's BLUEZONE International Denim Trade Fair in Munich, when DENIM, a new one piece denim fabric concept, was presented in co-operation with Santoni, Lenzing and Tonello.
The new complete total look capsule collection developed by Santoni is composed of body hugging, comfortable, sporty, chic and trendy denim items. This stretch indigo denim concept further enhances the idea of innovative knit denim as a counter-point to the traditional woven denim fabric. The genuine DNA of denim is maintained with contributions from the four leading supply chain partners,
being UNITIN the provider of the indigo dyed yarns.
Product specifications
UNITIN indigo-dyed cotton eliminates the need to dye during the garment process, saving much water. Available in a range of indigo hues, different denim tones can be achieved.
UNITIN is at this stage offering the Ne 30/1 in Z & S torsion on standard dark indigo colour while other counts or colours, as lighter ones or blue-black, are available now on Z torsion.
Wool Denim (Woven)
Wool Denim from The Woolmark Company is a new approach to improving the aesthetics of traditional denim fabric. Denim is probably the most popular trousering fabric in the world because of its value for money and relaxed appearance. However there are some drawbacks to traditional denim fabric: a tendency to fade during washing, poor drape and creasing during wear, coolness to touch when cold, and slow drying when wet. Many of these drawbacks can be overcome and one way in particular is to include a small amount of Merino wool in the fabric.
The Technology
Denim is a twill fabric traditionally made from a dyed cotton warp with an undyed weft yarn. Previous attempts to create wool/cotton blends in denim have used an intimate blend of wool with cotton – two fibres which are not easy to combine in a yarn. Yet production developments including the use of machine washable wool yarns have led to a more cost-effective way to produce Wool Denim without
having to intimately blend wool with cotton.
The Woolmark Company has worked with development partners to produce a wool/cotton denim blend which uses exactly the same warp yarn as traditional denim, but replaces some, or all, of the weft yarns with machine-washable wool. The fabrics are finished the same as traditional denim, so you can rest assured style won't be compromised, plus you gain all the natural benefits associated with wool.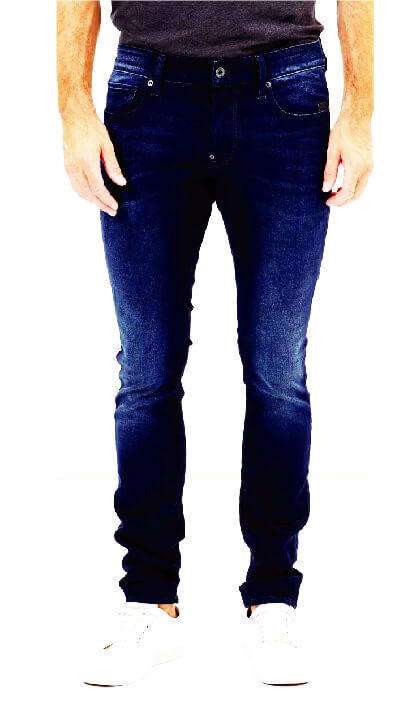 The features
Warmth: Wool in the weft yarns ensures there is wool on the inside of the fabric. This adds an extra element of warmth even in the coldest of winters and takes the initial chill out of putting on regular denim jeans.
Moisture management: When wet, the Wool Denim fabric feels drier on the skin and more comfortable than 100% cotton.
Odour resistant: Wool fabrics are naturally odour resistant, so this property lends itself to also exist in Wool Denim.
Machine washable: Specially treated wool is used to ensure you can wash and dry your jeans as per normal.