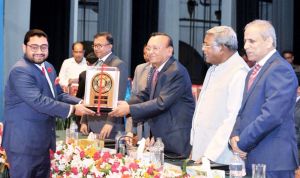 Envoy Textiles Limited has been awarded with the National Export Trophy (Gold) in recognition of their distinctive performance in Textiles Fabrics Export Sector. On behalf of Envoy Textiles, Director Mr Tanvir Ahmed received the Trophy & Certificate from Mr Tofail Ahmed, MP, Honorable Minister, Ministry of Commerce at the Osamani Memorial Hall in Dhaka.
Bangladesh government has handed over the National export trophy to 63 companies for their performance in export for fiscal 2014-15.
Honorable Commerce Minister Tofail Ahmed gave away gold, silver and bronze trophies to the company's representative on 15 July at a program, organized by the Export Promotion Bureau (EPB) in Dhaka.
Commerce Minister Tofail Ahmed was present at the event as chief guest. While speaking as chief guest, Commerce Minister said the interests of exporters and traders will be protected in the upcoming Import and Export Policy to ensure a business-friendly atmosphere in Bangladesh.
He said in many sectors Bangladesh has achieved its export targets and there will be higher targets in the future. The country will get trade facilities being a least developed country (LDC) till 2029, he said, adding, "After its graduation from the LDC, we'll go for Free Trade Agreements with other countries. By 2021, our export will cross US$60 billion and we will work to achieve the goal." He also said necessary steps have been taken to diversify products and market.
The government is giving top most priority to some sectors, including information technology, pharmaceuticals, agriculture, plastic, leather, and furniture, and these sectors are being given direct support from the government, he added.
FBCCI President Md Shafiul Islam Mohiuddin demanded harassment-free business environment where the regulatory bodies will not give any unpredictable decisions or issue orders, affecting the export business. At the function, trophies were awarded to the companies under 28 product categories where Zaber and Zobair Fabrics Limited received the gold trophy as the best exporting company for its highest export earnings in fiscal 2014-15.
The other 62 companies received gold, silver and bronze trophies under different categories, including woven garments, yarn, textile fabrics, home textile, terry towel, frozen foods, raw jute, jute goods, finished leather, leather goods, footwear, agricultural products, agro-processed products, handcrafts, plastic products, electric and electronics products etc.
Vice Chairman of EPB Bijoy Bhattacharjee, Commerce Secretary Shubhashish Bose and President of Parliamentary Standing Committee on Commerce Ministry Md Tajul Islam, among others, spoke on the occasion.