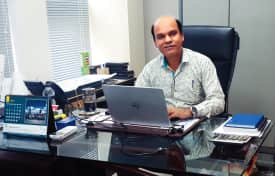 Envoy Textiles has been awarded LEED PLATINUM CERTIFICATION by U.S. Green Building Council – the highest worldwide recognition for quality design and environment sustainability.
This should be noted that, we are the ONLY to score 'Platinum LEED' among all Denim Mills in the WORLD and also ONLY to score the same among all Textiles Mills of BANGLADESH.
We produce fabrics without hurting to planet and without hurting people and for this only way is with technology. Now a days, most of the textiles machinery are equipped with modern technology and machine became more efficient. In future, technology can change the industry with innovation. This will mean reducing of use human hand from the manufacturing process of jeans and using the human brain instead.
Now, our big challenges are to ensure safety, saving energy, optimum usages of resources, save environments etc. And Accord, Alliance are contributing at lot in this area. We should follow their instruction and guidelines.
"There are lots of things we can do using technology. We need to think about how technology can transfer to our product and how we can use technology not only to create product in a better way, but how to be more creative. This is our vision."
Shama Proshad Ghosh
(B.Sc in Mechanical, MBA-Finance)
Sr. General Manager – Engineering
Envoy Textiles Ltd