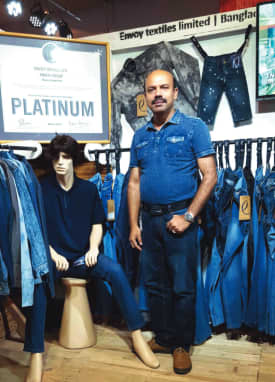 Now- a- days denim is the term which conquers the world with spectacular fashion appeal.
Knitting and weaving technology are two different branches in fabric manufacturing technology. Knitting technology can now produce knit denim fabric with same properties and appearance as that of woven denim fabric. Knitted denim has made inroads: sometimes knits look like woven and sometimes woven denim looks like knitted.
The global leader in textile and clothing, China is the first country that has created and implemented idea of creating knit denim look in knit fabrics with French terry structure.
Indigo knit denim now makes it possible to bridge the gap between jeans and active wear. It is only with knit denim, one can make Men's T-shirt, Fancy ladies Top, Tight pants, Sportswear, sweater and kid's garments.
The knitting method improves the softness and comfort ability of the fabric and color fading feature is achieved in washing by using indigo dyed yarn during knitting.
Knit denim is comfortable, fashionable and popular in all age group. Day by day knit denim market is increasing.
Nanda Dulal Biswas
(B.Sc. Engr. Textile, MBA-Finance)
Sr. General Manager, Production
Envoy Textiles Ltd