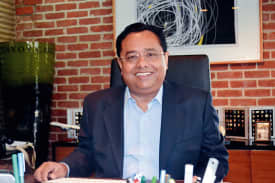 Bangladesh: A rising star in Denim Sector – what is your opinion?
Yes, the denim sector of Bangladesh is rising and now our denim mills are competent to offer premium grade products to the global market. Currently 20/22 factories are running whereas last year, there were only 10/12 denim mills in Bangladesh. The industry is also now able to offer a better lead time, improved R&D and inputs of skilled workforce.
What do you think about 'Bangladesh Denim: Big Opportunity in future'?
Currently all factories in Bangladesh are supplying around 50% of the total demand in Bangladesh Market, the rest is still being imported from other countries like China, India, Pakistan etc. Considering this scenario, yes, Bangladesh has a good future for denim manufacturing.
What new can we expect from the world of denim?
Denim world is fast changing. Denim was generally used as a casual wear till very recently. It was 100% cotton with open-end-yarn made in Indigo and Black colors. Now denims has gone into multiple rolls. It is taking the places of formal wears while continuing to evolve as fashion wear. Stretch denims have really evolved very well over the years not only for ladies and girls but also for men and boys. All retailers are shifting their collections from rigid denims to stretch denims. Denims have now moved into different blends like Modals, Tencels, Rayon's, Linens, etc. Denim is becoming more and more popular as an active wear. Even performance fabrics are being made now with the use of Thermo lite and Coolmax yarns. Days are coming when there will be bags, shoes, watch belts and other functional products related to fashion will be made of denims.  And, the trend has just started.
Envoy Textile is Green & Eco friendly renowned factory in Bangladesh. What do you think about Green and eco-friendly factories in Bangladesh?
Envoy Textiles Limited is the first LEED Platinum Denim mill in the world and also the first & only textile mill in Bangladesh with the same recognition.  This is a big milestone for denim industry both locally and globally. I think, eventually all denim factories in Bangladesh will give special emphasis on sustainability issues and will earn a better image in the global apparel market with their eco-friendly factories.
Which are your biggest market?  Where do you see the denim market heading?
Our biggest market is in USA & Europe.  In addition to that, markets are also expanding at Canada, Australia, New Zealand and Japan. A market at China is also evolving and that might be the biggest denim market.
 What kind of innovations can be expected in coming years from Envoy Textiles?
There are many innovative and state-of-the-art products in the market from ETL, like Knit Look denim; Super Stretch Denims, etc. We have included special performance Denims like Thermo lite and Coolmax. We will also be showcasing blends like Modal, Tencel & Rayon in Denims. In addition to those, our upcoming products also includes Specialized Handloom Products, Salvage Denim, etc. A lot more are also evolving in our Research & Development Division and are in the process to be offered to our customers periodically. We are also focusing to provide a value added service to our customers by setting up a full-fledged Physical and Chemical Laboratory. We have already got our lab accreditation by Levi's & Tema and are currently in the process to get lab accreditations from few other global retailers.
 Textiles industry waste water is killing our environment. How can we reduce water pollution and what do think about it?
Waste water pollution can be reduced drastically if environmental regulations are followed properly, like installation and use of Effluent Treatment Plant (ETP) and Water Treatment Plants (WTP). The way we do is, we do not discharge any untreated water outside our premises and we re-cycle the treated water into our internal lake and use them for fish cultivation and area cleaning. I think, if individual factories starts taking initiatives for sustainable developments, the overall scenario will be improved.
Do you have any plans to brand denim or readymade garments?
Yes, we have the plan to deliver a denim brand to the end-users and we are actively thinking to set-up a garment factory as a forward integration. On the other hand, we also have started our spinning project which is the backward integration with our existing textile project. Ultimately, with both backward and forward integration, the overall process will start with cotton and will end up delivering a readymade garments brand.
 Envoy Textiles is the No. 1 Denim Manufacturer and Exporter in Bangladesh, what is the future plan?
Our plan is to offer premium quality fabrics, state-of-the-art laboratory facility, competitive price and finest customer service with skilled human resources.
MR KUTUBUDDIN AHMED
Chairman
Envoy Textiles Limited